LifeStream Church of the Nazarene
is proud to sponsor
The Isaacs
in their ministry to the peoples of Vanuatu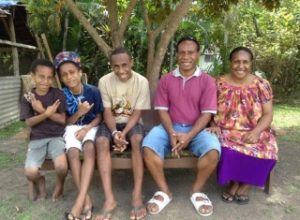 Peter and Jenny Isaac are regional missionaries from Papua New Guinea with the Church of the Nazarene, to the island nation of Vanuatu. Both had previously been teaching at the Melanesia Bible College in PNG and this is their first missionary assignment. They received their missionary call in 2000 and were assigned to the country of Vanuatu in 2006.
Peter is an ordained elder and is currently serving as District Superintendent for this pioneer work. They have three sons: Bennett (Birthday 8/10/1998), Ennrich (DOB 08/19/2001) and Junior (06/13/2006). Peter's birthday is 07/10/1971 and Jenny's birthday is 6/3. Their anniversary is 01/06/1996). Their work email address is: mel-fsc@apnaz.org. Their home email is: pandjisaac@vanuatu.com.vui. Their mailing address is P.O. Box 2047, Port Vila, Vanuatu.
At the last district assembly, the district set a goal of planting 50 new churches. At the present Vanuatu has six churches and eight preaching points. In 2015 they graduated 3 students from Bible College and Peter mentioned that more are wanting to attend. Pray that God would raise up more pastors to meet the vision of 50 new churches set by this past district assembly.
For more information regarding their mission, please see the links below.
————————————————————————————————————————————————————————-
Below is a letter from Rev. Peter Isaacs
We have just completed our Vanuatu District Assembly with many praise and thanks giving. We have Dr. Mark Louw the RD and his family accompanied by the Melanesian South Pacific field coordinator Rev. Harmon and his wife Cindy Schmelzenback who are here to celebrate with us.
God has done tremendous work since last year to this year. How he has saved lives of his people through our Pastors and workers in the church partner with us Missionary team. We know for sure that it was not us did this, it is through the power of your prayers and support you gave that moves the darkness to bring forth the light in to God's people. We really show the people are ripping as the Bible say so; "The harvest are ready, but we must pray to the gardener to supply workers."
Vanuatu contains 83 Islands and people are scattered all over. We have some number of churches in those Islands which we only communicate with shell phone. I once do funeral on shell phone, many times I help lay Pastors answering question, concerns, and even shared outline on shell phone to help keep the church get moving.
There were many denominations have been established since two hundred years ago, which we saw people go to church on Sundays but live the same, and practicing the same thing. There are some churches claim to be holiness but their ways of living dose not changed. That is where the Church of the Nazarene gets in on 2003. Day and night we do not waste any single minute to teach the life of Christ and be like him was our priority for Vanuatu people. Thanks be to God that who ever has entered our church they are beginning to see what they can do to receive salvation and continue to grow to be sanctify rather then become so religious. Your prayers does work in a mighty and powerful way!!
We have 7 organized churches and 2 will be organized next month will bring up to 9. We have 10 preaching points with some home churches that we continuously having Bible studies and fellowships. Our desire was to see the move of the holiness revival will be sweeping the entire Vanuatu and the surrounded countries. We can not but God can. Next year we were planing to move in to one of the neighboring country was New Caledonia. It was France dominating country. Please, help pray for us, we want to plant Nazarene Church there and begin to teach them Christ like life.
Pray request:
– our health and new strength
– wisdom we need to understand people and work with them
– Plant church in New Caledonia next year.
– Holiness revival in Vanuatu and neighboring counties
Personal
– Pray for our boys education
– Our oldest boy Bennett Isaac is about to graduate from his 12 grade at the end of this year, we don't not what will be his next step. We did not know who will be his next sponsor, will he be in Christian school or?
– We are ready now to our 5 term home assignment on the end of December.
Rev. Peter Isaac and family Vanuatu Mission
Please remain in prayer for the Isaac's family and their ministry
——————————————————————————————————————————-
The LINKS program of the Church of the Nazarene is a network of personal connections between missionaries and Nazarenes around the world. Missionaries are assigned to districts and are connected to local churches. This gives each church an opportunity to become personally acquainted with the missionary family and their field of service. Typically churches send cards, cash gifts, packages, and other remembrances to their LINKS missionaries.
For more information on LINKS or the Isaacs check out the PDF files below