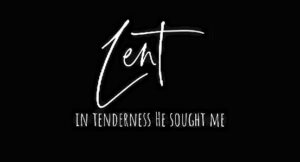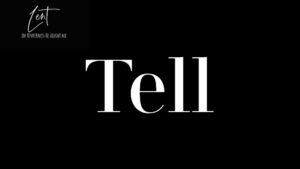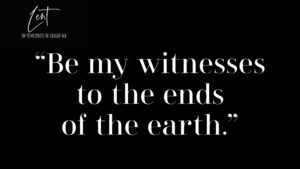 Devotional 2
When Mary Magdalene encounters the risen Christ in the garden, he gives her very clear instructions, "Go to my brothers and tell them, 'I am ascending to my Father and your Father, to my God and your God.'" (John 20: 17b) This message is revolutionary and amazing. Up to this point Jesus has spoken about God as "the Father" or "my Father." He has called his followers "disciples," "servants," and "friends." Now all that has changed. Feel the force of it! "Go and say to my brothers, I am going up to my father and your father, to my God and your God."
Something has altered, decisively. A new relationship has sprung to life, and Mary and the disciples are welcomed into a new creation, a new kingdom, a new trajectory between God and his people.
And one thing I love about our Mary—she does exactly what the Lord commands her.
John records Jesus' next encounter, this time with his disciples. Jesus tells them: "Peace be with you! As the Father has sent me, I am sending you." (John 20: 21) As with Mary, Christ has work for them to do—go and tell the good news that he has conquered sin and redeemed the world. Jesus' plan is incredibly risky. He is leaving the implementation to fickle individuals to share the gospel. Such a fragile operation rested on 12 sets of shoulders, who until that moment had shown themselves to be terribly flawed! And here is the kicker: It continues to rest on our often unworthy and flawed shoulders!
The great commission was too big for the disciples on their own. And it is too big for us. But thanks be to God that Jesus knows us so well. As soon as the words "I am sending you" are out of his mouth, with his very next breath, he says, "Receive the Holy Spirit."
So, this Lenten season, imagine you are standing in the garden, hearing your Risen Lord speak to you in the dawn light: Go and tell. Be my witnesses to the ends of the earth.
We've been given work to do. Let's get busy.
Here are simple ways to get started. First, become willing to be open to sharing with someone the reason for the hope you have. Second, pray that God will lead you to people he is drawing to himself (remember, it is a joint project!). Third, rely on the Spirit to guide your words and actions. You don't have to be a great orator—or even articulate for that matter. You just have to be willing to follow the Spirit's lead and share what it is like to have a relationship with Jesus, what it means to you to be forgiven and loved by God. And, fourth, be real, be yourself, and be creative. Only you can share your unique experience, strength, and hope.
– Jackie Edlund-Braun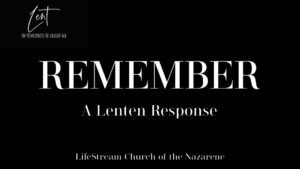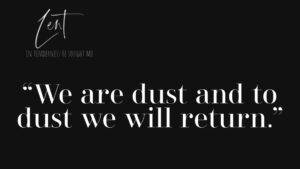 Devotional 1
I'm pretty sure the first time I heard a pastor mention "Lent" I checked my pockets to see what was in them. I thought he was talking about "lint." The church I grew up in didn't practice Lent so it was all new to me. Perhaps you've had a similar experience or have usually thought of Lent and Ash Wednesday as a Catholic thing.
More and more Christians and churches are rediscovering Lent, because it's actually a Christian and Jesus thing. Lent is a season of preparation for the celebration of Easter. It's a time to reflect on Jesus' journey to the cross and his invitation for us to take up our cross and follow him. Some people give up something or fast during Lent as a way to renew their focus on Christ.
I was talking with another pastor recently who described living during the pandemic as an ongoing season of Lent. He was remarking on how we have had to give up so much during the Pandemic, particularly being able to gather as whole church bodies. With this in mind, he wasn't planning on giving up anything else for Lent but is still going to use this time to reflect on Jesus and his sacrifice.
Whether you fast something or not during this Lent, I pray that you would make time to respond to God. Our theme for Lent this year at LifeStream is In Tenderness He Sought Me. The Lord of the Universe seeks you in tenderness and love. Each week of Lent we will suggest an action word as our Lenten response to God's tender seeking. There will be instructions to guide you in the response and a short devotional for you to reflect on.
On this first week of Lent we invite you to REMEMBER through our Ash Wednesday service. We remember who we are in our humanity and fallenness. We are a sinful people who have turned our backs on God. We are dust and to dust we will return.
Yet, we also remember that God hasn't given up on us. Jesus sacrificed himself for our sins and through his death made it possible for us to live forever with God. Jesus invites us to follow Him on the journey to the cross. It is a journey that leads through hardship and suffering but ultimately leads to life. Remember…
Join us for an Ash Wednesday Service
Feb 17 @ 7pm
In person or through Zoom
Message us for the Zoom information or for a DIY service you can walk through on your own.