LifeStream Church of the Nazarene
is proud to sponsor
The Isaacs
in their ministry to the peoples of Vanuatu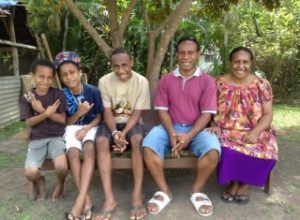 Peter and Jenny Isaac are regional missionaries from Papua New Guinea with the Church of the Nazarene, to the island nation of Vanuatu. Both had previously been teaching at the Melanesia Bible College in PNG and this is their first missionary assignment. They received their missionary call in 2000 and were assigned to the country of Vanuatu in 2006.
Peter is an ordained elder and is currently serving as District Superintendent for this pioneer work. They have three sons: Bennett (Birthday 8/10/1998), Ennrich (DOB 08/19/2001) and Junior (06/13/2006). Peter's birthday is 07/10/1971 and Jenny's birthday is 6/3. Their anniversary is 01/06/1996). Their work email address is: mel-fsc@apnaz.org. Their home email is: pandjisaac@vanuatu.com.vui. Their mailing address is P.O. Box 2047, Port Vila, Vanuatu.
At the last district assembly, the district set a goal of planting 50 new churches. At the present Vanuatu has six churches and eight preaching points. In 2015 they graduated 3 students from Bible College and Peter mentioned that more are wanting to attend. Pray that God would raise up more pastors to meet the vision of 50 new churches set by this past district assembly.
For more information regarding their mission, please see the links below.
————————————————————————————————————————————————————————-
Below is a letter from Rev. Peter Isaacs
Dear Brothers and Sisters in Christ,
Thank you so much for your prayers, and your help toward us since we are in ministry. We have just back from our home assignment in PNG and trying to organize ourselves were to settle before work. Our previous rental house has now been occupied by the landlord to do renovation so we had to move to different place. Thank God for Potters, our co workers would managed to find a unit at SIL which we can stay temporarily before locate new place.
We will also look for new schools for the boys to go due to late getting back. Their previous school restricted them to start do first and second term assignment plus the current work of second term subject. It has been usual to them but the problem was the teachers are not correcting and given them result. And that was the weakest part they don't like to go back to that same school. Further more; they don't have trained teachers to teach rather them hiring grade 12 to control their pace work. This is not acceptable to Jenny and me, so please pray for us to find one school that can be best for them.
Probably this week and next week we will work together with the 3 interim DS's how was the church going and with Pastors we will see how progress they go with their congregation. Then we will move on from there. Therefore, your prayers to those situations would be tremendous help for me and my family.
Pray request:
Pray for us to find a new house to stay on June.
Pray for our boys school. We don't know which school they will go?
Some churches and Pastors are encountering some problem, that we will move around to see them and work with them. If you all can pray for God's wisdom and understanding can enable Jenny, me, and our ministry partners to help them.
Thanks
DS Peter Isaac
Please remain in prayer for the Isaac's family and their ministry
——————————————————————————————————————————-
The LINKS program of the Church of the Nazarene is a network of personal connections between missionaries and Nazarenes around the world. Missionaries are assigned to districts and are connected to local churches. This gives each church an opportunity to become personally acquainted with the missionary family and their field of service. Typically churches send cards, cash gifts, packages, and other remembrances to their LINKS missionaries.
For more information on LINKS or the Isaacs check out the PDF files below