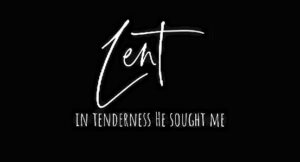 Lenten Week 7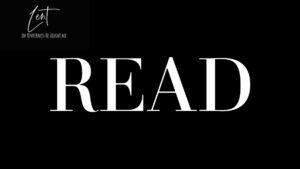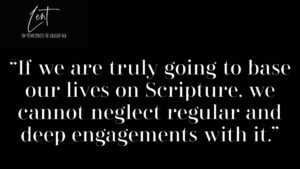 Many people have a love-hate relationship with reading. Most people like the idea of reading, but many struggle with the practice of reading. To be honest, it can be boring! We have fast paced TV shows to stream and social media feeds to scroll through. Regardless, reading can be an extremely important, impactful, and rejuvenating spiritual formation practice.
Many Christians profess to base their lives off of Scripture but few engage it in a meaningful way on a regular basis. For some, the only in-depth engagement with Scripture they have each week is in the Sunday sermon. Sure, snippets of passages and memory verses are great! But along with these we need to spend considerable time reading and studying longer passages of Scripture.
Scripture has been described before as being a kind of spiritual food. If we want to grow in Christ and live strong spiritual lives, but only feed ourselves scraps of Scripture, though we would still get some spiritual nutrients from these snippets we would leave ourselves spiritually malnourished and in need of more!
Plus, the spiritual formation practice of reading isn't limited to Scripture. By all means, read Scripture over and over (and over and over and…) again, but also consider reading spiritual classics, devotional books, commentaries, and other works. Just remember, no matter what you read be sure to return to Scripture and discuss your questions and discoveries with other Christians.
If we are truly going to base our lives on Scripture, we cannot neglect regular and deep engagements with it. If in everything we do we are going to ask the classic question "What would Jesus do?" we must spend time in Scripture and prayer to learn what it is Christ would do. However, as we read and engage the Word, we MUST be sure to discuss what we find with our brothers and sisters in Christ. Just like with every other part of our faith, this must not be done alone.
Each of the words we have addressed this Lenten season have been this, a practice; something to work at, to improve in, and to engage with. Even if you're not "good" at reading, it doesn't mean you can't regularly engage in the practice and learn from it. Start with shorter passages at a time (like reading a Psalm a day or a chapter from 1 John) and find a time and place where you can regularly, as uninterruptedly as possible, read and pray the Scriptures.
Challenge: As we wrap up the Lenten season, consider beginning or adding to your regular Scripture reading practice. Try reading the Passion stories (Jesus' Last Supper, betrayal, trial, crucifixion, and even Resurrection!) in the different Gospels and a Psalm each day. Then, after Resurrection Sunday, begin by reading at least a chapter from the Gospels a day.
Bonus Tips:
Try setting a timer and base your reading on time rather than length (ex: read for 15 minutes instead of reading a chapter)
If you need to, try utilizing audiobooks and readings of Scripture
Find a Bible reading plan online or ask around for what others are using.
If you'd like any tips or would like to discuss what you've read, feel free to contact your pastors!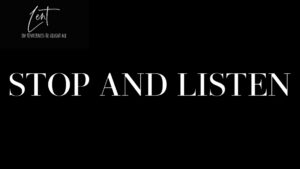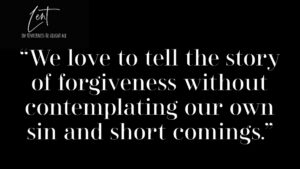 Devotional 6
This week we invite you to "Stop and Listen"
Scriptures:
Gen. 1:3,6,9,14,20,24. "And God said…"
John 1:1: "In the beginning was the Word, and the Word was with God, and the Word was God."
Matthew 16: 16-17: "Simon Peter answered, "You are the Messiah, the Son of the living God." Jesus replied, "Blessed are you, Simon son of Jonah, for this was not revealed to you by flesh and blood, but by my Father in heaven."
Mark 4: 23-24: "If anyone has ears to hear, let them hear. Consider carefully what you hear…"
John 10:4b "his sheep follow him because they know his voice."
Having six children, I am always amazed at what they hear. I can be standing directly in front of my child and in a loud voice state that their room needs cleaning, but they claim that I never said those words. They protest that they just did not hear me, yet the same child can hear the opening of a soda can five rooms away or hear the whisper of a secret Christmas present. Selective hearing is a real phenomenon! As parents we want our children to stop and listen to our words of wisdom or instruction, and as grandparents, we want our grandchildren to get to know us better through our words and stories.
Throughout the story of the Bible, God is continually revealing himself through his words. He spoke creation into being. We are told that the Word was with God and was God referring to Jesus coming into the World. Through Jesus coming to earth, his teachings and miracles, his death and resurrection, God reveals himself, but humankind often has selective hearing. We have heard only the parts of the narrative of God that we desire to hear. We often do not carefully consider the voice of God. We have selective hearing of God's revelation. We hear the love of God but not justice. We hear blessings but not curses. We hear a soft gospel of good news and resurrection to new life, but not the sacrifice, pain, or sorrow of the journey to the cross. We love to tell the story of forgiveness without contemplating our own sin and short comings.
As we walk through this Lenten season, you are invited to stop and hear the shepherd's voice in those moments that you create through separating yourself from the distractions of work and family life. Be intentional in finding a space and a specific time to quiet your heart and mind before Him and to learn his voice. God desires for you to know him, to hear his special purpose for your life, to comfort you, to whisper his love and care, to console you, to reveal himself, to instruct you in righteousness, to convict you of anything that would hinder you or separate you from him. We, like Peter, need to have that quiet time in the very presence of the Holy and one true God to gain the clarity of who God truly is revealed in Jesus, the Messiah, the son of the living God. May we always have ears to hear and understand those quiet whispers of God's voice and follow him wherever he leads.
Prayer: Father God, as I separate myself today from the busyness of life, I ask that you speak your word to me. Reveal to me who you are and who I am in relation to you. Reveal the secrets and purpose you have specifically for my circumstances and allow me to have open ears to hear from you today. Amen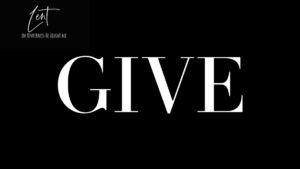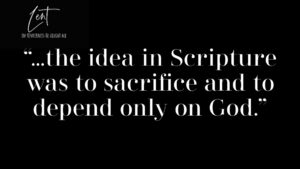 Devotional 5
One of the ways we can respond to God during the season of Lent is to GIVE.
WAIT! STOP! This is not what you think it is.
*Shew*, it is a good thing you stayed with me. This is not a pass-the-plate sermon or devotional – though you can always give money to the church. The giving I am discussion really does not involve money at all. (I heard all those hallelujahs, thank goodness, amen and such.)
The passage for this devotional response is Matthew 4:4-11. It is about the time Jesus went to the desert for the three temptations from the serpent.
People look to the time we call Lent to give up one thing or two…and substitute something else maybe? One year, my husband decided to give up stuff that was in the vending machine at work. He was spending quite a bit on the vending machine and it showed. Ha-ha. As Lent continued, I noticed that he was getting a little belly. I didn't say anything, but I couldn't figure out how that might happen if he gave up all the junk food. At this time we had two cars. I (Charlene) got in Daniel's car one day, and I saw in the back seat boxes of empty little Debbie cakes. He gave up the vending machine but not his favorite junk food.
I had a friend who gave up ice cream because on Sundays her parents did not observe the Lenten fast on Sunday but saw it as mini-holiday. Her sister gave up cake. That way every Sunday she was guaranteed to have a piece of cake and a scoop of ice cream with lunch. To this day she laughs about it.
Daniel and I (Charlene) wanted to do something different for Lent. We know that a lot of folks (including us) have had years of practice of giving up something for Lent. We decided that the idea in Scripture was to sacrifice and to depend only on God. Instead of giving up something, we gave something- like each week taking a box of food to a food pantry (giving from our own pantry the foods that we like), or by giving some time each week to work on something that would help others. Each week we might babysit for a single mom, and so forth. The ideas are endless.
So what about you? How can you go out and Give? Email your ideas to us. It is one more way to give! That is to fill up Pastor Jared's email box by letting him know what you are doing to GIVE! HaHaha.
Pastor Charlene Sorensen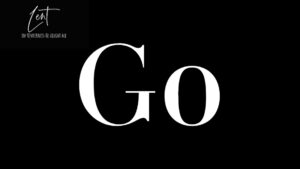 "Let's GO!" Many things come to mind when I hear this phrase. A simple mantra for motivation, excitement during a sports game, or simply, the phrase most often repeated when we need to be somewhere. One thing is certain, the word GO is an action word and carries the connotation of going somewhere or doing something.

What could it mean to GO during this season of Lent? You might be thinking, many of us have hardly gone anywhere over the past year due to this global pandemic. We can't really go anywhere right now! While this is the case, I believe we can get creative with this word, and find ways to discover God's calling for our lives and be part of his vision for the world, even in these bizarre and unprecedented times.

One of the most familiar GO passages in Scripture is found in Matthew 28, after Jesus' resurrection, when he shares with his disciples, "Therefore, go and make disciples of all nations…", instructing them, with the help of the Holy Spirit, to obey and bring to the world what he has taught them. Another reference includes Jesus' example of going and spending time in prayer. "Jesus went out to a mountainside to pray, and spent the night praying to God" (Luke 6:12). Still further, in the gospel of John, Jesus responds to a woman who has committed adultery, saying, "Go now and leave your life of sin."

So what do these passages have in common? They are all unique, but one thing that stands out is that each example includes not just going, but doing. GO and DO. Go and tell the Good News; go and spend time in prayer; go and sin no more. Following Jesus and living the gospel message requires taking action. And as believers, we are called to take part in that action. We are his design, his hands and feet, his vessels for transforming this world.

On this fourth week of Lent, we invite you to GO and DO. What does this look like? Perhaps it could mean taking a prayer walk or drive around your neighborhood, getting a visual of the mission field that surrounds you, and spending time in prayer for the families that reside in each home. It might mean taking time to reflect by yourself or with close friends, being intentional about your priorities and the calling God has placed on your heart to fulfill. Maybe it looks like paying for someone's meal in the drive-thru line, or volunteering your time at a local mission. It could also look like taking a card or meal to someone who so desperately needs to see the love of Jesus in action. Whatever it may be, I challenge you to let your light shine in such a way as to glorify Him. I firmly believe there is divine potential in any vision God has placed on our hearts to GO and DO.
– Denise Willemin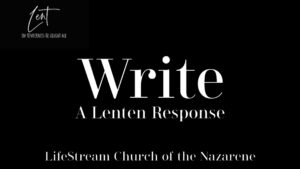 "In the Law Moses commanded us to stone such women. Now what do you say? …But Jesus bent down and started to write on the ground with his finger. When they kept on questioning him, he straightened up and said to them, 'Let any one of you who is without sin be the first to throw a stone at her.' Again he stooped down and wrote on the ground" (John 8:5-8 NIV).
Oh to have been there, to have been able to see the words written by the hand of Jesus! Many scholars have put out theories of this writing. St. Augustine thought that Jesus was establishing himself as a lawgiver, referencing God writing the Ten Commandments; St. Jerome thought that he wrote a list of the woman's accusers, citing Jeremiah 17:13. Still, some say that Jesus was merely doodling or perhaps was writing the sins of those who dared to cast that first stone.
No matter what the messiah wrote on the ground, it clearly left an impression, for no one, not one, dared to throw the stone at the adulterous woman. She was left, standing alone in the presence of her savior. Jesus, showing compassion for a sinner, refused to condemn her. Instead, he chose to save her life, both physically and spiritually, as he commanded her to leave her life of sin.
During this week of Lent, as we reflect on the word "write," think of this moment. Jesus' action of writing, even though we do not know what he wrote, saved a woman. I challenge each of us to think of our own writing. Right now, think of every text message, every social media post, every email, every note or letter. Are your written words hurting or saving? Are you lifting others up with compassion, or are you daring to throw the first stone? Let us remember, a human being, a child of the one true God, sits on the other side, and we all need a little more Jesus in our life. Share him.
­­ —Chelsea Taylor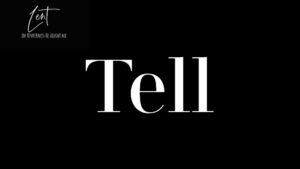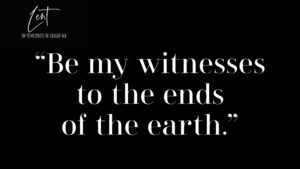 Devotional 2
When Mary Magdalene encounters the risen Christ in the garden, he gives her very clear instructions, "Go to my brothers and tell them, 'I am ascending to my Father and your Father, to my God and your God.'" (John 20: 17b) This message is revolutionary and amazing. Up to this point Jesus has spoken about God as "the Father" or "my Father." He has called his followers "disciples," "servants," and "friends." Now all that has changed. Feel the force of it! "Go and say to my brothers, I am going up to my father and your father, to my God and your God."
Something has altered, decisively. A new relationship has sprung to life, and Mary and the disciples are welcomed into a new creation, a new kingdom, a new trajectory between God and his people.
And one thing I love about our Mary—she does exactly what the Lord commands her.
John records Jesus' next encounter, this time with his disciples. Jesus tells them: "Peace be with you! As the Father has sent me, I am sending you." (John 20: 21) As with Mary, Christ has work for them to do—go and tell the good news that he has conquered sin and redeemed the world. Jesus' plan is incredibly risky. He is leaving the implementation to fickle individuals to share the gospel. Such a fragile operation rested on 12 sets of shoulders, who until that moment had shown themselves to be terribly flawed! And here is the kicker: It continues to rest on our often unworthy and flawed shoulders!
The great commission was too big for the disciples on their own. And it is too big for us. But thanks be to God that Jesus knows us so well. As soon as the words "I am sending you" are out of his mouth, with his very next breath, he says, "Receive the Holy Spirit."
So, this Lenten season, imagine you are standing in the garden, hearing your Risen Lord speak to you in the dawn light: Go and tell. Be my witnesses to the ends of the earth.
We've been given work to do. Let's get busy.
Here are simple ways to get started. First, become willing to be open to sharing with someone the reason for the hope you have. Second, pray that God will lead you to people he is drawing to himself (remember, it is a joint project!). Third, rely on the Spirit to guide your words and actions. You don't have to be a great orator—or even articulate for that matter. You just have to be willing to follow the Spirit's lead and share what it is like to have a relationship with Jesus, what it means to you to be forgiven and loved by God. And, fourth, be real, be yourself, and be creative. Only you can share your unique experience, strength, and hope.
– Jackie Edlund-Braun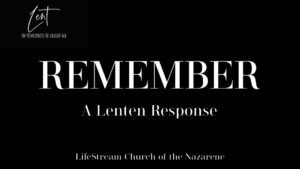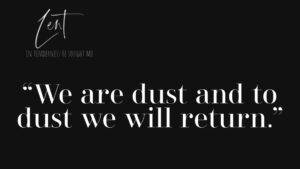 Devotional 1
I'm pretty sure the first time I heard a pastor mention "Lent" I checked my pockets to see what was in them. I thought he was talking about "lint." The church I grew up in didn't practice Lent so it was all new to me. Perhaps you've had a similar experience or have usually thought of Lent and Ash Wednesday as a Catholic thing.
More and more Christians and churches are rediscovering Lent, because it's actually a Christian and Jesus thing. Lent is a season of preparation for the celebration of Easter. It's a time to reflect on Jesus' journey to the cross and his invitation for us to take up our cross and follow him. Some people give up something or fast during Lent as a way to renew their focus on Christ.
I was talking with another pastor recently who described living during the pandemic as an ongoing season of Lent. He was remarking on how we have had to give up so much during the Pandemic, particularly being able to gather as whole church bodies. With this in mind, he wasn't planning on giving up anything else for Lent but is still going to use this time to reflect on Jesus and his sacrifice.
Whether you fast something or not during this Lent, I pray that you would make time to respond to God. Our theme for Lent this year at LifeStream is In Tenderness He Sought Me. The Lord of the Universe seeks you in tenderness and love. Each week of Lent we will suggest an action word as our Lenten response to God's tender seeking. There will be instructions to guide you in the response and a short devotional for you to reflect on.
On this first week of Lent we invite you to REMEMBER through our Ash Wednesday service. We remember who we are in our humanity and fallenness. We are a sinful people who have turned our backs on God. We are dust and to dust we will return.
Yet, we also remember that God hasn't given up on us. Jesus sacrificed himself for our sins and through his death made it possible for us to live forever with God. Jesus invites us to follow Him on the journey to the cross. It is a journey that leads through hardship and suffering but ultimately leads to life. Remember…
Join us for an Ash Wednesday Service
Feb 17 @ 7pm
In person or through Zoom
Message us for the Zoom information or for a DIY service you can walk through on your own.